09:41
Wall Street drops at the open
US stock indexes have dropped at the start of trading, as soaring tensions between Russia and the West over Ukraine worry investors.
Shares are under pressure, ahead of the key Federal Reserve policy meeting on Wednesday that could cement expectations of a March interest rate rise.
The Dow Jones Industrial Average of 30 large US companies is down 386 points, or 1.1%, at 33,878 points. Boeing (-3.5%), Disney (-2.9%), Goldman Sachs (-2.7%) and Visa (-2.3%) are leading the fallers.
The S&P 500 is down 1.5%, as is the tech-focused Nasdaq Composite.
09:28
The UK's smaller stock index, the FTSE 250, is having a torrid day.
The index of mid-size companies has tumbled by 3.25% today, down 723 points at 21540 points.
That's its lowest level since the end of March 2021, and on track for its worst day in over a year (although it could yet recover some ground).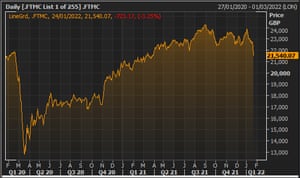 Cinema chain Cineworld (-13%) and cyber security firm Darktrace (-12.3%) are the top fallers.
Updated

09:01
The Stoxx 600 index of European company shares has now dropped by 2.8%, to its lowest level since November 30th.
Updated

08:59
The FTSE 100 index has now lost all its gains so far this year.
It's down 123 points, or 1.65%, at 7370 points, still on track for its worst day in eight weeks.
Russian steelmaker Evraz is now among the big fallers, down 7.1%, just behind tech-focused investment trust Scottish Mortgage (-7.5%) which continues to be pummelled by the correction in technology stocks.
Basic materials producers are weaker too, including copper producer Antofagasta (-5.8%) and Glencore (-5.3%). Educational publisher Pearson (-6.5%), gambling group Entain (-6.3%) and airline group IAG (-5.6%) are also high in the fallers.
08:10
Gas prices jump
Gas prices have jumped sharply today, on concerns that Russian supplies to Europe could be disrupted.
The wholesale day-ahead contract for UK gas has risen 14% to 217p per therm, adding to gains on Thursday and Friday.
That's more than triple the price a year ago, but still below its record highs last autumn: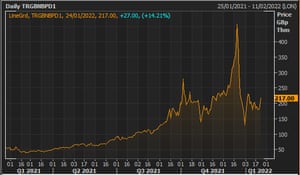 The UK wholesale weekend gas price has risen 9.7%, while the winter 2022 gas contract is 21% higher.
European benchmark gas prices have also jumped today, with the February and March contracts both up over 6%.
1.20pm GMT update: the Dutch wholesale gas contract for February is now up 18.5% today.
Russian energy supplies are in the spotlight as the United States and Europe both promised to impose new, much harsher sanctions on Moscow should it invade Ukraine.
But the Kremlin has insisted that it is reliable energy supplier, as Reuters reports:



Russia has been a reliable energy supplier to Europe even at difficult times in relations, Kremlin spokesman Dmitry Peskov said on Monday, calling reports in British media that Moscow may cut supplies in case of sanctions "fake hysteria".

Europe relies on Russia for around 35% of its gas and is also a major consumer of Russian oil coming both via pipelines and sea ports

"In the most uneasy times in our relations, Russia was a reliable guarantor of Europe's energy security, faultlessly fulfilling its contractual obligations," Peskov told a conference call on Monday.
Updated

08:05
Today's losses follow the worst week for global equity markets since October 2020.
The MSCI's index of world markets dropped by 4.25% last week, with volatility rising amid a growing sense of investor unease.
Worries about tighter US Federal Reserve policy, the tensions between Russia and Ukraine, and disappointing earnings calls from some high-profile companies are all factors, says Mark Haefele, chief investment officer at UBS Global Wealth Management:



"With a number of critical market factors still in flux, the short-term market direction can remain volatile.

But for longer-term investors, we don't think it is a bad thing if market volatility takes some of the air out of the more speculative corners of the market—Bitcoin is down 23.8% year-to-date. Nor is it a bad thing if current volatility means that some secular growth names are being offered at their best prices in months.

Meanwhile, it's important to remember we remain in a very strong economic growth environment, which should stay supportive of cyclical and value sectors in the short term."
07:24
European selloff gathers speed as Ukraine worries rise
The selloff in Europe's stock markets is gathering pace, as tensions over Ukraine rise.
The UK's FTSE 100 index of blue-chip shares has now dropped by 93 points, or 1.25%, to 7400 points.
That's its lowest level since the start of January, as a risk-off mood sweeps markets after Nato said it is reinforcing its eastern borders with land, sea and air forces.
European markets have fallen deeper into the red, with Germany's DAX and France's CAC both down 1.9% today.
It puts European stocks on track for their worst day in two months (since the discovery of Omicron sparked a selloff in November).
Susannah Streeter, senior investment and markets analyst at Hargreaves Lansdown, explains:



"The threat of conflict breaking out on the doorstep is hanging over European indices, as hopes begin to fade that there will be fresh meaningful moves from diplomats.

The tech sector jitters are continuing, unsurprising given the seemingly unstoppable slide of the Nasdaq composite and the march downwards of the S&P 500 on Friday."
Investors are also worried that the US Federal Reserve could tighten monetary policy sharply this year, after America's inflation rate hit a 40-year high.
The Fed meets this week, and could signal that it will lift interest rates in March. Some are wondering if the Fed could hike rates by 50-basis points [0.5%] in March, rather than the 0.25bp rise expected.
Raffi Boyadjian, lead investment analyst at XM, warns there could be more jitters ahead:



Wall Street just had its most bruising week since the onset of the pandemic in March 2020 and it could get even rockier for stocks in the coming days. The Federal Reserve is poised to give a formal nod to liftoff on Wednesday and the earnings season is about to heat up with a host of major names set to report this week.

Meanwhile, tensions between the West and Russia over Ukraine show no sign of easing, adding to the market angst as a conflict could potentially deepen the global energy crisis.
Housebuilders are among the top fallers in London, such as Barratt Development (-6.6%) and Persimmon (-5.8%). Analysts at Jefferies cut their rating on some building firms this morning, as the government demands the sector foots the bill for removing dangerous cladding.
Technology-focused investment trust Scottish Mortgage has dropped 5.8% today, as tech stocks continue to come under pressure (the Nasdaq fell into a correction last week).
Updated

06:41
Bitcoin hits six-month low amid crypto turmoil
Bitcoin has tumbled to its lowest level since last July, as traders ditch risky assets such as crypto currencies.
Bitcoin has fallen to around $33,800, down over 5% in the last 24 hours.
It's now shed more than half its value since hitting record highs around $69,000 in November.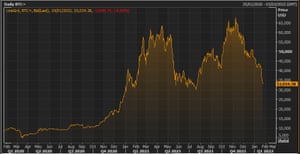 Victoria Scholar, head of investment at interactive investor, says the crypto market is "in turmoil", and there could be further falls ahead.



It looks as though the [Bitcoin] downtrend remains intact with the potential for further downside towards $30,000 as the next major round number support level, which coincides with the summer trough.

Similarly, ether has shed around 50% with $2000 as the next key level to watch. It looks like the bubble has burst as panic selling grips the market.

What this episode has taught us is that this is still a very nascent asset class with a high level of correlation between individual crypto assets, particularly on the way down. It has also taught us that for those willing to enjoy the ride higher, traders need to be able to stomach the sharp volatility and steep declines as well. Brave traders might use this major repricing as an opportunity to buy the dip."
The tumble in crypto prices in recent weeks as wiped $1trn off the combined value of the sector since November's peak.
Anxiety that US interest rates could be hiked several times this year is one factor hurting speculative assets. The Ukraine crisis is another.
Chris Weston of brokerage Pepperstone says macro forces, such as "higher US real rates, lower inflation expectations and a focus on reduced liquidity from the Fed" are hitting the crypto sector.